Biography - James M. Benson

James Monroe Benson was born three miles from the State House in Sangamon County, Ill., February 6, 1822. His father, Charles R Benson was born September 28, 1793, in Greenbrier County, Virginia (now in West Virginia), and his father Babel Benson was, it is believed, a native of Virginia. He removed to Kentucky in 1831 and resided in Todd County, that State until his death. The name of his wife was Nellie Seward. They reared a family of seven children, three daughters and four sons. Charles R Benson was reared in Virginia and went to Tennessee when a young man. He married near Knoxville and came from there to Illinois in 1821 locating in Sangamon County ad thus becoming one of the pioneer settlers of that county. He made a claim on a piece of Government land, built a house upon it and resided there until 1824 when he removed to Logan County, Ky and remained there until 1831.
Then accompanied by his wife and six children, Mr. Benson returned to Illinois making the entire journey overland in a four-horse wagon, bringing his household goods and camping and cooking on the way. He located in Gallatin County and there bought a tract of State land at fifty cents per acre. This property was timber land and upon it he erected a log cabin, sawing the lumber for the doors and window casings making the floor of puncheons and the chimney of sticks and clay. Mrs. Benson cooked by the fireplace and with her own hands carded and spun and wove the cloth for the clothing of her family. There was no railroad in this part of the country for years after he settled in Gallatin County and the people lived mainly upon what their farms produced and upon wild game such as deer and wild turkeys which were then very plentiful. Mr. Benson cleared his land as rapidly as possible and made of it a good farm. There he passed the rest of his life though he died in Stoddard County, Mo while on a hunting expedition in 1848. The name of his wife was Polly B Riggin; she was born near Knoxville, Tn 23 June 1796 a daughter of James and Mary Riggin and died 26 Dec 1838. She reared a family of nine children: James M, A. Hamilton, Ignatuius M, Nancy I, Mary N, John F, Charles B Valentine S and Francis A.
James M., the eldest of the family, was two years old when the family moved to Kentucky and nine years old when they returned to Illinois. he was reared in Gallatin County and attended the pioneer schools kept in log houses without any floors. There was then but little public money for schools so it was necessary for the families that desired their children to attend school to subscribe an amount of money proportionate to the number of pupils to be sent. The teacher boarded around among the patrons of the school. James M resided with his father until his marriage. He then rented a home farm until 1851 after which he moved to Johnson County and entered a tract of Government Land which is included within the limits of his present farm. At first he erected a hewed log house, and this his family occupied until 1867 when he erected a good frame house. He has cleared about one hundred and twenty acres of the land, erected a good frame barn and planted fruit trees and otherwise improved the farm.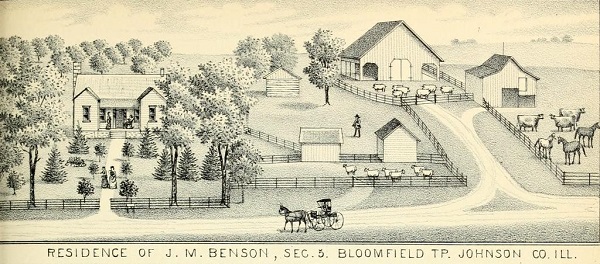 April 20, 1845, Mr. Benson married Celinda Slack who was born in Union County, Ill. Her father William Slack was born in Kentucky of which State his father also William Slack was one of the pioneers. The father of Mrs. Benson came to Illinois when a young man and in Union County married Mary Finney, who was born in Virginia, and was a daughter of John and Sarah (Reynolds) Finney. He resided in Union County a short time but when Mrs. Benson was one month old removed to Johnson County and settled in Cache Twp. After living there for some tie he removed to Bloomfield Twp and bought a farm where he and his wife passed the rest of their lives. Mr and Mrs Benson have four children living: Newton J, Margaret A, Alonzo G and James N. Newton J a graduate of the Louisville Medical College is now practicing medicine at Anna, Union County, Illinois. Margaret A married John P Carson and lives in Carbondale. Alonzo G is a farmer and lives in Tunnel HIll Twp. James N is also a farmer of Tunnel Hill Twp.
Mr. and Mrs. Benson and all of their children are members of the Methodist Episcopal Church. Politically Mr. Benson has been a Republican since the breaking out of hte war. In 1861 he enlisted in Company K, Sixtieth Illinois Infantry, and served until 29 November 1862 when he was discharged on account of disability. He is a member of Vienna Post No. 221, G. A. R. He has always been a temperate man in practice and is an advocate of temperance.
Extracted from 1893 Biographical Review of Johnson, Massac, Pope, and Hardin Counties, Illinois, pages 150-151.