Obituary - Anna E. Allen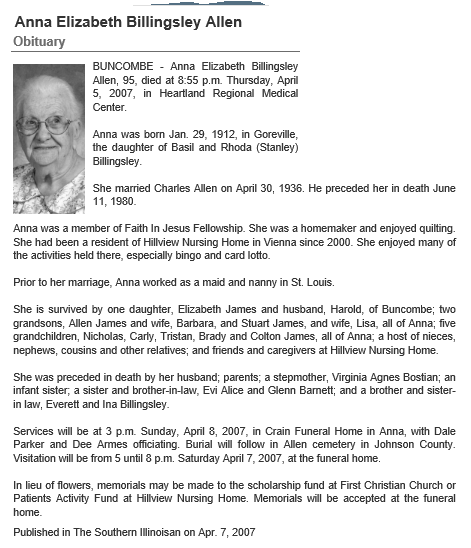 Buncombe – Anna Elizabeth Billingsley Allen, 95, died at 8:55 p.m. Thursday, April 5, 2007, in Heartland Regional Medical Center.

Anna was born Jan. 29, 1912, in Goreville, the daughter of Basil and Rhoda (Stanley) Billingsley.

She married Charles Allen on April 30, 1936. He preceded her in death June 11, 1980.

Anna was a member of Faith in Jesus Fellowship. She was a homemaker and enjoyed quilting. She had been a resident of Hillview Nursing Home in Vienna since 1000. She enjoyed many of the activities held there, especially bingo and card lotto.

Prior to her marriage, Anna worked as a maid and nanny in St. Louis.

She is survived by one daughter, Elizabeth James and husband, Harold, of Buncombe, two grandsons, Allen James and wife, Barbara, and Stuart James, and wife, Lisa, all of Anna; five grandchildren, Nicholas, Carly, Tristan, Brady and Colton James, all of Anna, a host of nieces, nephews, cousins and other relatives, and friends and caregivers at Hillview Nursing Home.

She was preceded in death by her husband; parents; a stepmother, Virginia Agnes Bostian; an infant sister; a sister and brother-in-law, Evi Alice and Glenn Barnett; and a brother and sister-in-law, Everett and Ina Billingsley.

Services will be at 3 p.m. Sunday, April 8, 2007, in Crain Funeral Home in Anna, with Dale Parker and Dee Armes officiating. Burial will follow in Allen cemetery in Johnson County. Visitation will be from 5 until 8 p.m. Saturday April 7, 2007, at the funeral home.

In lieu of flowers, memorials may be made to the scholarship fund at First Christian Church or Patients Activity Fund at Hillview Nursing Home. Memorials will be accepted at the funeral home.

Published in The Southern Illinoisan on Apr. 7, 2007.