Obituary - Syble I. Alsip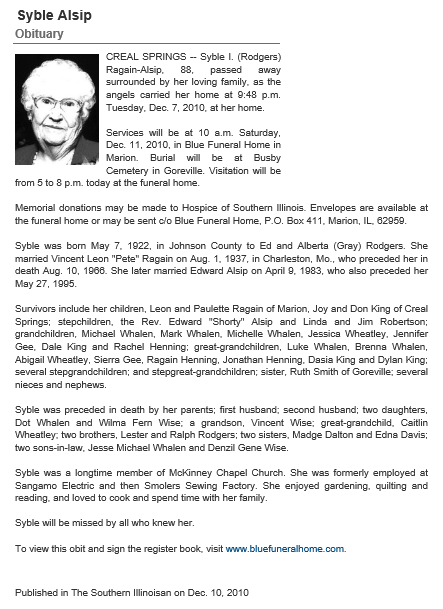 Creal Springs – Syble I. (Rodgers) Ragain-Alsip, 88, passed away surrounded by her loving family, as the angels carried her home at 9:48 p.m. Tuesday, Dec. 7, 2010, at her home.

Services will be at 10 a.m. Saturday, Dec. 11, 2010, in Blue Funeral Home in Marion. Burial will be at Busby Cemetery in Goreville. Visitation will be from 5 to 8 p.m. today at the funeral home.

Memorial donations may be made to Hospice of Southern Illinois. Envelopes are available at the funeral home or may be sent c/o Blue Funeral Home, P. O. Box 411, Marion, IL 62959.

Syble was born May 7, 1922, in Johnson County to Ed and Alberta (Gray) Rodgers. She married Vincent Leon "Pete" Ragain on Aug. 1, 1937, in Charleston, Mo., who preceded her in death Aug. 10, 1966. She later married Edward Alsip on April 9, 1983, who also preceded her May 27, 1995.

Survivors include her children, Leon and Paulette Ragain of Marion, Joy and Don King of Creal Springs; stepchildren, the Rev. Edward "Shorty" Alsip and Linda and Jim Robertson; grandchildren, Michael Whalen, Mark Whalen, Michelle Whalen, Jessica Wheatley, Jennifer Gee, Dale King and Rachel Henning; great-grandchildren, Luke Whalen, Brenna Whalen, Abigail Wheatley, Sierra Gee, Ragain Henning, Jonathan Henning, Dasia King and Dylan King; several stepgrandchildrne; and stepgreat-grandchildren; sister, Ruth Smith of Goreville; several nieces and nephews.

Syble was preceded in death by her parents; first husband; second husband; two daughters, Dot Whalen and Wilma Fern Wise; a gradson, Vincent Wise; great-grandchild, Caitlin Wheatley; two brothers, Lester and Ralph Rodgers; two sisters, Madge Dalton and Edna Davis; two sons-in-law, Jesse Michael Whalen and Denzil Gene Wise.

Syble was a longtime member of McKinney Chapel Church. She was formerly employed at Sangamo Electric and then Smolers Sewing Factory. She enjoyed gardening, quilting and reading, and loved to cook and spend time with her family.

Syble will be missed by all who knew her.

To view this obit and sign the register book, visit www.bluefuneralhome.com.

Published in The Southern Illinoisan on Dec. 10, 2010.