Obituary - Eva N. Benson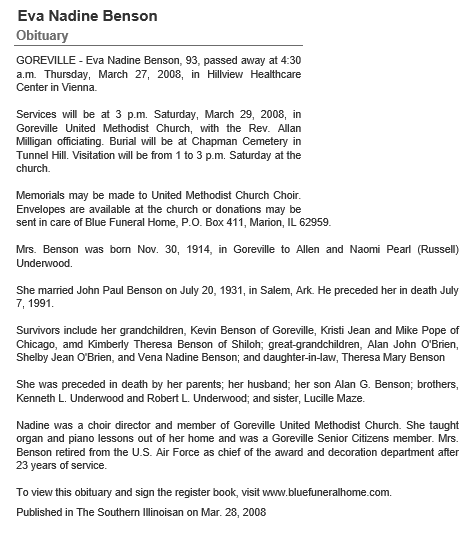 Goreville – Eva Nadine Benson, 93, passed away at 4:30 a.m. Thursday, March 27, 2008, in Hillview Healthcare Center in Vienna.

Services will be at 3 p.m. Saturday, March 29, 2008, in Goreville United Methodist Church, with the Rev. Allan Milligan officiating. Burial will be at Chapman Cemetery in Tunnel Hill. Visitation will be from 1 to 3 p.m. Saturday at the church.

Memorials may be made to United Methodist Church Choir. Envelopes are available at the church or donations may be sent in care of Blue Funeral Home, P.O. Box 411, Marion, IL 62959.

Mrs. Benson was born Nov. 30, 1914, in Goreville to Allen and Naomi Pearl (Russell) Underwood.

She married John Paul Benson on July 20, 1931, in Salem, Ark. He preceded her in death July 7, 1991.

Survivors include her grandchildren, Kevin Benson of Goreville, Kristi Jean and Mike Pope of Chicago, and Kimberly Theresa Benson of Shiloh; great-grandchildren, Alan John O'Brien, Shelby Jean O'Brien, and Vena Nadine Benson; and daughter-in-law, Theresa Mary Benson.

She was preceded in death by her parents; her husband; her son Alan G. Benson; brothers, Kenneth L. Underwood and Robert L. Underwood; and sister, Lucille Maze.

Nadine was a choir director and member of Goreville United Methodist Church. She taught organ and piano lessons out of her home and was a Goreville Senior Citizens member. Mrs. Benson retired from the U.S. Air Force as chief of the award and decoration department after 23 years of service.

To view this obituary and sign the register book, visit www.bluefuneralhome.com

Published in The Southern Illinoisan on Mar. 28, 2008.