Obituary - Minnie Bridges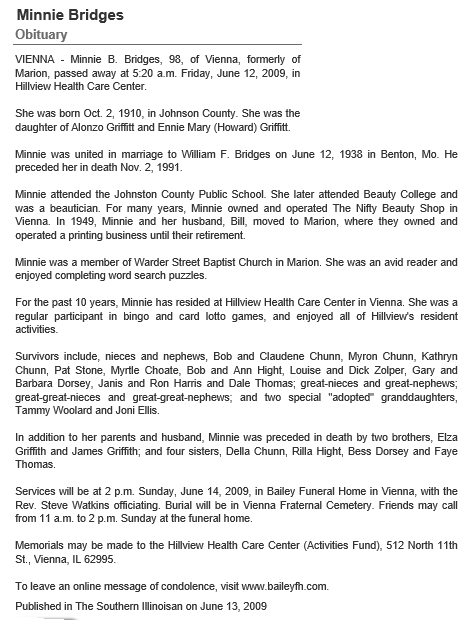 Vienna – Minnie B. Bridges, 98, of Vienna, formerly of Marion, passed away at 5:20 a.m. Friday, June 12, 2009, in Hillview Health Care Center.

She was born Oct. 2, 1910, in Johnson County. She was the daughter of Alonzo Griffith and Ennie Mary (Howard) Griffith.

Minnie was united in marriage to William F. Bridges on June 12, 1938 in Benton, Mo. He preceded her in death Nov. 2, 1991.

Minnie attended the Johnston County Public School. She later attended Beauty College and was a beautician. For many years, Minnie owned and operated The Nifty Beauty Shop in Vienna. In 1949, Minnie and her husband, Bill, moved to Marion, where they owned and operated a printing business until their retirement.

Minnie was a member of Warder Street Baptist Church in Marion. She was an avid reader and enjoyed completing word search puzzles.

For the past 10 years, Minnie has resided at Hillview Health Care Center in Vienna. She was a regular participant in bingo and card lotto games, and enjoyed all of Hillview's resident activities.

Survivors include, nieces and nephews, Bob and Claudene Chunn, Myron Chunn, Kathryn Chunn, Pat Stone, Myrtle Choate, Bob and Ann Hight, Louis and Dick Zolper, Gary and Barbara Dorsey, Janis and Ron Harris and Dale Thomas; great-nieces and great-nephews; great-great-nieces and great-great-nephews; and two special "adopted" granddaughters, Tammy Woolard and Joni Ellis.

In addition to her parents and husband, Minnie was preceded in death by two brothers, Elza Griffith and James Griffith; and four sisters, Della Chunn, Rilla Hight, Bess Dorsey and Faye Thomas.

Services will be at 2 p.m. Sunday, June 14, 2009, in Bailey Funeral Home in Vienna, with the Rev. Steve Watkins officiating. Burial will be in Vienna Fraternal Cemetery. Friends may call from 11 a.m. to 2 p.m. Sunday at the funeral home.

Memorials may be made to the Hillview Health Care Center (Activities Fund), 512 North 11th St., Vienna, IL 62995.

To leave an online message of condolence, visit www.baileyfh.com

Published in The Southern Illinoisan on June 13, 2009.