Obituary - Della Carlton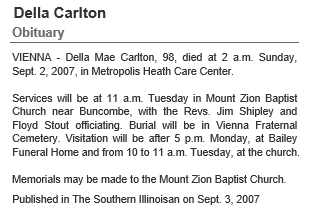 Vienna – Della Mae Carlton, 98, died at 2 a.m. Sunday, Sept. 2, 2007, in Metropolis Heath Care Center.

Services will be at 11 a.m. Tuesday in Mount Zion Baptist Church near Buncombe, with the Revs. Jim Shipley and Floyd Stout officiating. Burial will be in Vienna Fraternal Cemetery. Visitation will be after 5 p.m. Monday, at Bailey Funeral Home and from 10 to 11 A.m. Tuesday, at the church.

Memorials may be made to the Mount Zion Baptist Church.

Published in The Southern Illinoisan on Sept. 3, 2007.