Obituary - Helen J. Carter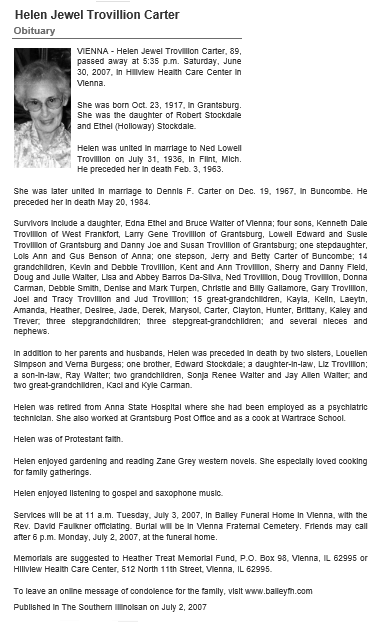 Vienna – Hellen Jewel Trovillion Carter, 89, passed away at 5:35 p.m. Saturday, June 30, 2007, in Hillview Health Care Center in Vienna.

She was born Oct. 23, 1917, in Grantsburg. She was the daughter of Robert Stockdale and Ethel (Hollowayy) Stockdale.

Helen was united in marriage to Ned Lowell Trovillion on July 31, 1836, in Flint, Mich. He preceded her in death Feb. 3, 1963.

She was later united in marriage to Dennis F. Carter on Dec. 19, 1967, in Buncombe. He preceded her in death May 20, 1984.

Survivors include a daughter, Edna Ethel and Bruce Walter of Vienna; four sons, Kenneth Dale Trovillion of West Frankfort, Larry Gene Trovillion of Grantsburg, Lowell Edward and Susie Trovillion of Grantsburg and Danny Jjoe and Susan Trovillion of Grantsburg; one stepdaughter, Lois Ann and Gus Benson of Anna; one stepson, Jerry and Betty Carter of Buncombe; 14 grandchildren, Kevin and Debbie Trovillion, Kent and Ann Trovillion, Sherry and Danny Field, Doug and Julie Walter, Lisa and Abbey Barros Da-Silva, Ned Trovillion, Doug Trovillion, Donna Carman, Debbie Smith, Denise and Mark Turpen, Christie and Billy Gallamore, Gary Trovillion, Joel and Tracy Trovillion and Jud Trovillion; 15 great-grandchildren, Kayla, Kelln, Laeytn, Amanda, Heather, Desiree, Jade, Derek, Marysol, Carter, Clayton, Hunter, Brittany, Kaley and Trever; three stepgrandchildren; three stepgreat-grandchildren; and several nieces and nephews.

In ddition to her parents and husbands, Helen was preceded in death by two sisters, Louellen Simpson and Verna Burgess; one brother, Edward Stockdale; a daughter-in-law, Liz Trovillion; a son-in-law, Ray Walter; two grandchildren, Sonja Renee Walter and Jay Allen Walter; and two great-grandchildren, Kaci and Kyle Carman.

Helen was retired from Anna State Hospital where she had been employed as a psychiatric technician. She also worked at Grantsburg Post Office and as a cook at Wartrace School.

Helen was of Protestant faith.

Helen enjoyed gardening and reading Zane Grey western novels. She especially loved cooking for family gatherings.

Helen enjoyed listening to gospel and saxophone music.

Services will be at 11 a.m. Tuesday, July 3, 2007, in Bailey Funeral Home in Vienna, with the Rev. David Faulkner officiating. Burial will be in Vienna Fraternal Cemetery. Friends may call after 6 p.m. Monday, July 2, 2007, at the funeral home.

Memorials are suggested to Heather Treat Memorial Fund, P.O. Box 98, Vienna, IL62995 or Hillview Health Care Center, 512 North 11th Street, Vienna, IL 62995.

To leave an online message of condolence for the family, visit www.baileyfh.com

Published in The Southern Illinoisan on July 2, 2007.