Obituary - Flo B. Cavitt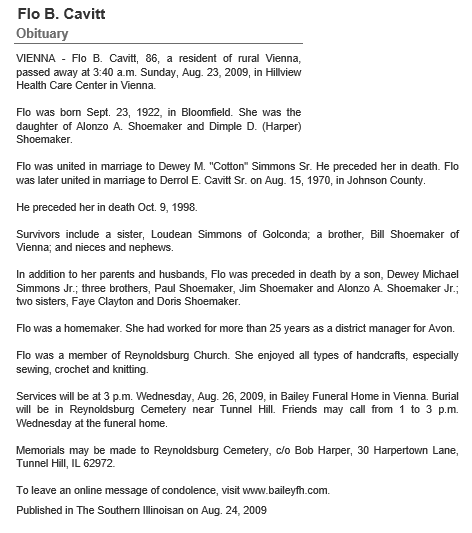 Vienna – Flo B. Cavitt, 86, a resident of rural Vienna, passed away at 3:40 a.m. Sunday, Aug. 23, 2009, in Hillview Health Care Center in Vienna.

Flo was born Sept. 23, 1922, in Bloomfield. She was the daughter of Alonzo A. Shoemaker and Dimple D. (Harper) Shoemaker.

Flo was united in marriage to Dewey M. "Cotton" Simmons Sr. He preceded her in death. Flo was later united in marriage to Derrol E. Cavitt Sr. on Aug. 15, 1970, in Johnson County.

He preceded her in death Oct. 9, 1998.

Survivors include a sister, Loudean Simmons of Golconda; a brother, Bill Shoemaker of Vienna; and nieces and nephews.

In addition to her parents and husbands, Flo was preceded in death by a son, Dewey Michael Simmons Jr.; three brothers, Paul Shoemaker, Jim Shoemaker and Alonzo A. Shoemaker Jr.; two sisters, Faye Clayton and Doris Shoemaker.

Flo was a homemaker. She had worked for more than 25 years as a district manager for Avon.

Flow was a member of Reynoldsburg Church. She enjoyed all types of handcrafts, especially sewing, crochet and knitting.

Services will be at 3 p.m. Wednesday, Aug. 26, 2009, in Bailey Funeral Home in Vienna. Burial will be in Reynoldsburg Cemetery near Tunnel Hill. Friends may call from 1 to 3 p.m. Wednesday at the funeral home.

Memorials may be made to Reynoldsburg Cemetery, c/o Bob Harper, 30 Harpertown Lane, Tunnel Hill, IL 62972.

To leave an online message of condolence, visit www.baileyfh.com

Published in The Southern Illinoisan on Aug. 24, 2009.