Obituary - David L. Choate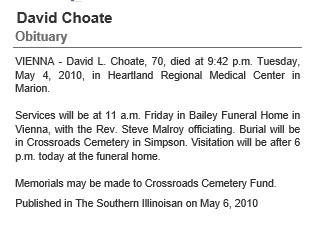 Vienna – David L. Choate, 70, died at 9:42 p.m. Tuesday, May 4, 2010, in Heartland Regional Medical Center in Marion.

Services will be at 11 a.m. Friday in Bailey Funeral Home in Vienna, with the Rev. Steve Malroy officiating. Burial will be in Crossroads Cemetery in Simpson. Visitation will be after 6 p.m. today at the funeral home.

Memorials may be made to Crossroads Cemetery Fund.

Published in The Southern Illinoisan on May 6, 2010.