Obituary - Lillian Colboth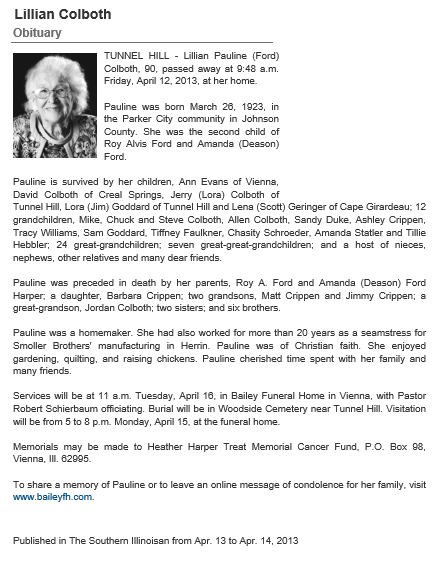 Tunnel Hill – Lillian Pauline )Ford) Colboth, 90, passed away at 9:48 a.m. Friday, April 12, 2013, at her home.

Pauline was born March 26, 1923, in the Parker City community in Johnson County. She was the second child of Roy Alvis Ford and Amanda (Deason) Ford.

Pauline is survived by her children, Ann Evans of Vienna, David Colboth of Creal Springs, Jerry (Lora) Colboth of Tunnel Hill, Lora (Jim) Goddard of Tunnel Hill and Lena (Scott) Geringer of Cape Girardeau; 12 grandchildren, Mike, Chuck and Steve Colboth, Allen Colboth, Sandy Duke, Ashley Crippen, Tracy Williams, Sam Goddard, Tiffney Faulkner, Chasity Schroeder, Amanda Statler and Tillie Hebbler; 24 great-grandchildren; seven great-great-grandchildren; and a host of nieces, nephews, other relatives and many dear friends.

Pauline was preceded in death by her parents, Roy A. Ford and Amanda (Deason) Ford Harper; a daughter, Barbara Crippen; two grandsons, Matt Crippen and Jimmy Crippen; a great-grandson, Jordan Colboth; two sisters; and six brothers.

Pauline was a homemaker. She had also worked for more than 20 years as a seamstress for Smoller Brothers' manufacturing in Herrin. Pauline was of Christian faith. She enjoyed gardening, quilting, and raising chickens. Pauline cherished time spent with her family and many friends.

Services will be at 11 a.m. Tuesday, April 16, in Bailey Funeral Home in Vienna, with Pastor Robert Schierbaum officiating. Burial will be in Woodside Cemetery near Tunnel Hill. Visitation will be from 5 to 8 p.m. Monday, April 15, at the funeral home.

Memorials may be made to Heather Harper Treat Memorial Cancer Fund, P.O. Box 98, Vienna, Ill. 62995.

To share a memory of Pauline or to leave an online message of condolence for her family, visit www.baileyfh.com

Published in The Southern Illinoisan from Apr. 13 to Apr. 14, 2013.