Obituary - Opal Colboth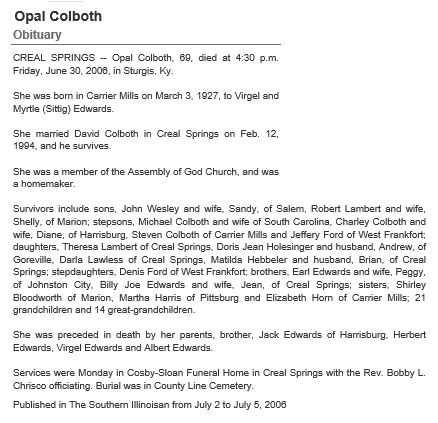 Creal Springs – Opal Colboth, 69, died at 4:30 p.m. Friday, June 30, 2006, in Sturgis, Ky.

She was born in Carrier Mills on March 3, 1927, to Virgel and Myrle (Sittig) Edwards.

She married David Colboth in Creal Springs on Feb. 12, 1994, and he survives.

She was a member of the Assembly of God Church, and was a homemaker.

Survivors include sons, John Wesley and wife, Sandy, of Salem, Robert Lambert and wife, Shelly, of Marion; stepsons, Michael Colboth and wife of South Carolina, Charley Colboth and wife, Diane, of Harrisburg, Steven Colboth of Carrier Mills and Jeffery Ford of West Frankfort; daughters, Theresa Lambert of Creal Springs, Doris Jean Holesinger and husband, Andrew, of Goreville, Darla Lawless of Creal Springs, Matilda Hebbeler and husband, Brian, of Creal Springs; stepdaughters, Denis Ford of West Frankfort; brothers Earl Edwards and wife, Peggy, of Johnston City, Billy Joe Edwards and wife, Jean, of Creal Springs; sisters, Shirley Bloodworth of Marion, Martha Harris of Pittsburg and Elizabeth Horn of Carrier Mills; 21 grandchildren and 14 great-grandchildren.

She was preceded in death by her parents, brother, Jack Edwards of Harrisburg, Herbert Edwards, Virgel Edwards and Albert Edwards.

Services were Monday in Cosby-Sloan Funeral Home in Creal Springs with the Rev. Bobby L. Chrisco officiating. Burial was in County Line Cemetery.

Published in The Southern Illinoisan from July 2 to July 5, 2006.